Greater Revenues  •  Lower Costs  •  Exponential Growth
"Make Strategic Partnering Your Core Competency"
Courses
Enroll in one of our three information packed courses and take your game to the next level.
Coaching
Enroll in our 6-week coaching program and receive personalized 1-on-1 expertise.
Partnerships offer the greatest ROI vs Organic & acquisition.
-Journal of Accountancy
360% increase in "Partnership Managers" hired in the last 5 years.
-LinkedIn
38% of CEOs say B2B Partnerships are their #1 growth stategy.
-KPMG
Would you like to collaborate in real-time with an expert who will help you implement the PARTNERNOMICS methodology into your organization? Attend weekly 50-minute video conference coaching sessions over a 6-week period with one of our expert coaches and accelerate your organization's partnership success.
PARTNERNOMICS | Accessible Anywhere
We want our curriculum and classes to be easily navigated to provide the most impressive user experience possible.
"In today's business world, strategic partnerships are the fuel for exponential growth for companies large and small. PARTNERNOMICS not only brilliantly illustrates the unique benefits these business relationships bring to bear, but also provides a clear framework for establishing and nurturing successful partnerships."
Stephen Whiteing
VP, CenturyLink
"Forging successful partnerships is transformative for any business. PARTNERNOMICS offers a first-of-its-kind, thoroughly researched and practical toolkit for developing and nurturing synergistic partnerships. Mark Brigman's exhaustive studies and life-long dedication to the subject inform this essential playbook for partnering. With this tactical and strategic framework, users can realize the full potential of partnerships."
Paul Scanlan
CEO, Legion M
"In PARTNERNOMICS, Dr. Mark Brigman challenges everything you thought you knew about starting, maturing, and maximizing business partnerships. Mark encourages us to replace transactional partnership thinking with strategic concepts like trust, esprit de corps, and the Partnership Pyramid. The book PARTNERNOMICS is a powerful resource packed with ideas for recalibrating our traditional approach to business relationships."
Dr. Lee Stuart
Univ of Kansas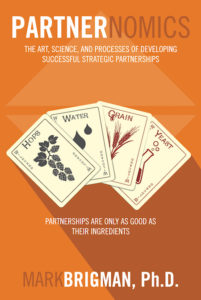 Free Demo Lesson From Partnernomics
Click below to see Lesson #1 of our Partnering Foundations course, which includes a Thought Leader Interview with TRUEcar Co-Founder, Bernie Brenner.